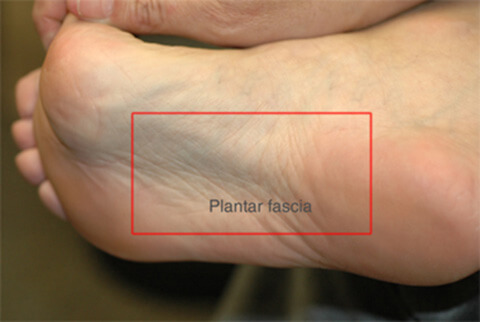 Overview
The plantar fascia is a band of connective tissue that runs along the sole from the heel to the ball of the foot. One of its main roles is to keep the bones and joints in position. Bruising or overstretching this ligament can cause inflammation and heel pain. A common cause is flat feet, because the ligament is forced to overstretch as the foot spreads out and the arch flattens. The pain may be worse first thing in the morning or after rest. In many cases, plantar fasciitis is associated with heel spur. The plantar fascia tears and bleeds at the heel and, over time, these injuries calcify and form a bony growth.
Causes
Plantar fasciitis is a painful disorder in the lower part of your foot usually around the heel. That pain usually hurts as you get up in the morning when you try to stand on your feet, or after any periods of inactivity. It is a disorder of a tough and strong band that connects the heel bone to the toes. Plantar Fasciitis is caused by injuring that tough band on the bottom of the foot. The following may be the causes of plantar fasciitis. Tight calf muscles or tight Achilles tendon produces repetitive over-stretching of the plantar fascia. Gait and balance Problem may be a dominant cause of this disorder. Many people have a special style of walking, with something unique that causes some kind of imbalance in their body. It might be something like locked knees, feet that turn-out, a weak abdomen etc. This imbalance may place some pressure on the fascia, which eventually causes plantar fasciitis. Weak foot muscles don't give enough support to the plantar fascia. The small muscles in the foot give the foot its shape by keeping the bones in place and by expanding and contracting to make a movement. Weak foot muscles will allow greater stress on the fascia. Foot anatomical problems such as flat feet or high arches can make the fascia ligament work or stretch abnormally. Flattening of the fat pad at the sole of the feet under the heels is a Degeneration process that is caused by poor footwear or by age. Shoes that have no proper heel cup can flatten that fat pad quite quickly and cause this disorder. Walking in shoes which do not have good arch support is considered to be a cause of plantar fasciitis. Wearing inadequate or worn out shoes may place more stress on the fascia ligament. If you wear shoes that don't fit you by size or width, you may put your feet under excessive stress. Overweight Men and women are more vulnerable to developing the condition because of the excess weight on the foot. Pregnant women are at risk due to gaining weight through pregnancy and due to the pregnancy hormones that make ligaments loosen and relax. Sudden increase of activity like starting to run long distance or complete change of daily activity can cause heel pain and this disorder. Practice of repetitive athletic activities, like long distance running, playing a ball game, dancing or jumping, is a common cause for the disorder. Actually it is considered as one of the most common running injuries. Spending long periods of time on your feet everyday can cause plantar fasciitis. Working on your feet a few hours a day evey day may be the reason for your heel pain.
Symptoms
Symptoms of plantar fasciitis include pain in the heel of the foot. Some people complain of a sharp stabbing pain especially with walking. Others describe the pain as a dull ache after prolonged standing. The pain of plantar fasciitis is often worst in the morning or following activity.
Diagnosis
Plantar fasciitis is one of many conditions causing "heel pain". Some other possible causes include nerve compression either in the foot or in the back, stress fracture of the calcaneus, and loss of the fatty tissue pad under the heel. Plantar fasciitis can be distinguished from these and other conditions based on a history and examination done by a physician. It should be noted that heel spurs are often inappropriately thought to be the sole cause of heel pain. In fact, heel spurs are common and are nothing more than the bone's response to traction or pulling-type forces from the plantar fascia and other muscles in the foot where they attach to the heel bone. They are commonly present in patients without pain, and frequently absent from those who have pain. It is the rare patient who has a truly enlarged and problematic spur requiring surgery.
Non Surgical Treatment
Usually, the pain will ease in time. 'Fascia' tissue, like 'ligament' tissue, heals quite slowly. It may take several months or more to go. However, the following treatments may help to speed recovery. A combination of different treatments may help. Collectively, these initial treatments are known as 'conservative' treatments for plantar fasciitis. Rest your foot. This should be done as much as possible. Avoid running, excess walking or standing, and undue stretching of your sole. Gentle walking and exercises described below are fine. Footwear. Do not walk barefoot on hard surfaces. Choose shoes with cushioned heels and a good arch support. A laced sports shoe rather than an open sandal is probably best. Avoid old or worn shoes that may not give a good cushion to your heel. Heel pads and arch supports. You can buy various pads and shoe inserts to cushion the heel and support the arch of your foot. These work best if you put them in your shoes at all times. The aim is to raise your heel by about 1 cm. If your heel is tender, cut a small hole in the heel pad at the site of the tender spot. This means that the tender part of your heel will not touch anything inside your shoe. Place the inserts/pads in both shoes, even if you only have pain in one foot. Pain relief. Painkillers such as paracetamol will often ease the pain. Sometimes anti-inflammatory medicines such as ibuprofen are useful. These are painkillers but also reduce inflammation and may work better than ordinary painkillers. Some people find that rubbing a cream or gel that contains an anti-inflammatory medicine on to their heel is helpful. An ice pack (such as a bag of frozen peas wrapped in a tea towel) held to your foot for 15-20 minutes may also help to relieve pain. Exercises. Regular, gentle stretching of your Achilles tendon and plantar fascia may help to ease your symptoms. This is because most people with plantar fasciitis have a slight tightness of their Achilles tendon. If this is the case, it tends to pull at the back of your heel and has a knock-on effect of keeping your plantar fascia tight. Also, when you are asleep overnight, your plantar fascia tends to tighten up (which is why it is usually most painful first thing in the morning). The aim of these exercises is to loosen up the tendons and fascia gently above and below your heel. Your doctor may refer you to a physiotherapist for exercise guidance.
Surgical Treatment
Most studies indicate that 95% of those afflicted with plantar fasciitis are able to relieve their heel pain with nonsurgical treatments. If you are one of the few people whose symptoms don't improve with other treatments, your doctor may recommend plantar fascia release surgery. Plantar fascia release involves cutting part of the plantar fascia ligament in order to release the tension and relieve the inflammation of the ligament. Overall, the success rate of surgical release is 70 to 90 percent in patients with plantar fasciitis. While the success rate is very high following surgery, one should be aware that there is often a prolonged postoperative period of discomfort similar to the discomfort experienced prior to surgery. This pain usually will abate within 2-3 months. One should always be sure to understand all the risks associated with any surgery they are considering.